Jan Rabaey (SONIC PI – UC/Berkeley) wins Aristotle Award at TECHCON 2017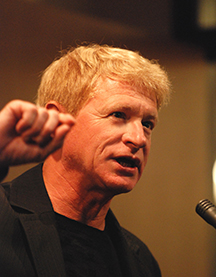 AUSTIN, Texas – September 12, 2017 – SRC awarded SONIC PI, Professor Jan Rabaey with the 2017 Aristotle Award.
The Aristotle Award was authorized by the SRC Board of Directors in 1995 to recognize professors who best contribute to the development of the industry's most valuable resource, its human resource. This award recognizes SRC-supported faculty whose deep commitment to the educational experience of SRC students has had a profound and continuing impact on their professional performance and, consequently, a significant impact for members over a long period of time.
Professor Jan Rabaey of the University of California/Berkeley is eminently qualified to receive the 2017 Aristotle Award. Jan holds the Donald O. Pederson Distinguished Professorship at the University of California at Berkeley. He is a founding director of the Berkeley Wireless Research Center (BWRC) and the Berkeley Ubiquitous SwarmLab, and as served as the Electrical Engineering Division Chair at Berkeley twice.
Professor Rabaey has made high-impact contributions to a number of fields, including advanced wireless systems, low power integrated circuits, sensor networks, and ubiquitous computing. His current interests include the conception of the next-generation integrated wireless systems, as well as the exploration of the interaction between the cyber and the biological world.
For more information on TECHCON 2017 or the Aristotle Award, please visit https://www.src.org/calendar/e005108/.